Louis-Narito Harada
Partner
Practice areas
Commercial agreements

Construction and engineering

Energy and infrastructure

Environment

Inquiries and investigations

Procurement strategies

Project and infrastructure finance

Public law
Practice notes
Narito Harada is a Partner in our Projects group and heads our Environment, Clean energy and Regulatory practice in Paris. He specializes in environmental law as well as the renewable energy sector. He also advises on planning and general administrative and regulatory issues.
His recent experience, regarding environmental issues, includes advising:
a pharmaceutical major on a pollution of water with endocrine disruptor, legal assistance on environmental risks associated with a crisis management situation
SNCF on waste management and recycling of treated wood ; on an environmental dispute with the buyer of a contaminated land
Parker Hannifin and Alamo on the divestment of former industrial sites, including an environmental substitution procedure
representing GDE, a waste recycling leader, on various environmental litigations involving classified facilities regulation, waste management and water protection before administrative, civil and criminal courts, including crisis management
In the clean energy sector:
Nordex France on the acquisition of 4 wind farms for a total of 70 MW; on several wind farm litigations before administrative courts, such as a claim against two environmental permit refusals or a claim against two municipal orders prohibiting the use of roads for heavy loads
ING Bank in the financing of three wind projects (21 MW, 22MW and 10 MW) and 3,000 small rooftop projects (regulatory and project contracts aspects)
Centrica on the setting up of an energy storage service on an industrial site in France
a French major IPP on the capacity market and energy storage projects
Narito also has extensive experience of litigation before administrative courts, as well as civil and criminal courts.
He graduated from King's College London, Paris I Panthéon Sorbonne University (postgraduate degree (DEA) in Environmental Law and postgraduate degree (DESS) in public law litigation), and the Institut de Droit Public des Affaires. He sits in the editorial board of Bulletin du droit de l'environnement industriel (BDEI) and regularly publishes articles on Environmental Law in the specialized press and in his blog.
In environmental law, Narito is ranked Band 4 in Chambers 2020 and Next generation lawyer in Legal 500. He also received the bronze trophy by Le Palmarès du Droit in 2020. Eversheds Sutherland as a firm is ranked Band 3 by Legal 500 in environmental law and Band 2 in the energy sector. In our Energy Transition Club, Narito is your main contact in Paris.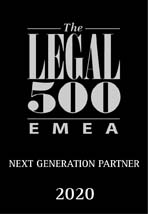 Français
Narito Harada est avocat associé au sein du groupe Projets et responsable de la pratique Environnement, Transition énergétique et Réglementaire du bureau parisien. Il est spécialisé en droit de l'environnement et dans le secteur des énergies renouvelables. Il est également reconnu pour sa pratique en droit de l'urbanisme et dans les secteurs réglementés.
A titre d'exemples, en matière d'environnement, il a récemment conseillé :
un acteur majeur de l'industrie pharmaceutique sur une potentielle contamination de l'eau par un perturbateur endocrinien, assistance juridique associée à la gestion d'une situations de crise
SNCF sur la gestion et le recyclage des déchets de bois traités et sur un litige environnemental avec l'acquéreur d'un terrain pollué
Parker Hannifin et Alamo sur la cession d'anciens sites industriels suivant la procédure de tiers demandeur
GDE, leader du recyclage, sur un contentieux environnemental important autour d'un projet d'installation de stockage de déchets, avec des litiges devant les juridictions administratives, civiles et pénales
Exemples en matière de transition énergétique :
Nordex France sur l'acquisition de 4 parcs éoliens pour un total de 70 MW ; sur plusieurs contentieux éoliens devant les juridictions administratives, tels que des recours contre des refus d'autorisation environnementale ou des arrêtés municipaux interdisant le passage de poids lourds
ING Bank sur le financement de trois projets éoliens (21 MW, 22 MW et 10 MW) et de 3 000 petits projets de toiture (aspects réglementaires et contrats de projets)
Centrica sur la mise en place d'un service de stockage d'énergie sur un site industriel en France
un producteur indépendant d'énergie important sur le marché de capacité et le stockage d'énergie
Narito a également une grande expérience du contentieux administratif, civil et pénal.
Narito est diplômé de King's College London, de l'Université Paris I Panthéon-Sorbonne (DEA de Droit de l'environnement et DESS de Contentieux de droit public) et de l'Institut de Droit Public des Affaires. Il est membre du comité de rédaction du Bulletin du droit de l'environnement industriel (BDEI) et publie régulièrement dans des revues spécialisées en droit de l'environnement.
En 2020, Legal 500 l'a classé parmi la Next generation lawyer et Chambers Europe en Band 4, en droit de l'environnement. Dans le cadre du Palmarès du Droit, son équipe s'est vu décerner le trophée bronze en 2020. Le cabinet est classé en Band 3 par Legal 500 en droit de l'environnement et en Band 2 dans le secteur de l'énergie. Au sein de notre Club pour la transition énergétique, Narito est votre principal contact.